May 15, 2015
FOSS4G Seoul 2015 Committee is pleased to announce to sign Memorandum of Understanding (MOU) with Smart Geospatial Expo Organizing Committee to closely cooperate FOSS4G Seoul 2015 and SmartGeo Expo 2015(smartgeoexpo.kr/eng/main) all together including co-promotion of two events, mutual exchange of technology, sharing of workshops and sessions, and exchange of keynote speakers.
SmartGeo Expo is the largest geospatial event in Korea. SmartGeo Expo 2015 will be taking place between 15th and 17th, September at the same venue – The-K Hotel Seoul – as FOSS4G Seoul 2015. SmartGeo Expo is hosted and organized by Ministry of Land, Infrastructure, and Transport (www.molit.go.kr), LH Corporation (www.lh.or.kr) and LX Corporation (www.lx.or.kr) to introduce and promote geospatial business, geospatial industry, and geospatial companies in South Korea. Attendees of FOSS4G Seoul can visit any sessions and exhibition booths of SmartGeo Expo without additional registration. Both organizations believe this cooperation will increase awareness of 2 events and contribute to the great success of 2 events eventually.
Sanghee Shin, Chairperson of FOSS4G Seoul 2015 Committee, explained this MOU is quite meaningful because the largest geospatial event in South Korea and the biggest Open Source GIS event in the world will be taking place together. He mentioned FOSS4G Seoul 2015 Attendees who wanted to find business opportunities in South Korea could visit SmartGeo Expo to find local business partners and SmartGeo Expo attendees could participate in FOSS4G Seoul 2015 to have chances to see the latest Open Source GIS technologies and applications. He also said that there might be lots of opportunities for whom are seeking for chances of business in Asia where will be the hot place for Open Source GIS in the next several decades because many Asian visitors are expected.
Hwayoung Lee, Chiarperson of SmartGeo Expo 2015 Committee, told that it was glad to have a chance to cooperate with the world biggest Open Source GIS event that will be taking place in same time. He also mentioned that it was perfect timing that FOSS4G came to South Korea when the Korean Government made a big decision to promote Open Source GIS industry in South Korea. He was expecting that this opportunity could make South Korean GIS companies go abroad with the Open Source GIS technologies.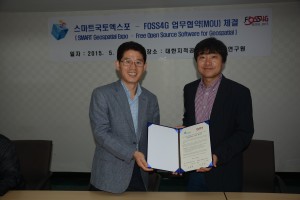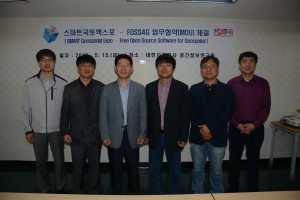 CONTACT INFORMATION
Sanghee Shin(shshin@gaia3d.com)
FOSS4G Seoul 2015 Committee(foss4g2015-info@osgeo.org)