Asia Special Session
Asia will be the next big market for FOSS4G professionals, users, and companies. The market size of Asian economies already overwhelmed that of E.U. and U.S.A. and we've watched many emerging and vibrant FOSS4G activities in Asia. However this market is still untapped in terms of FOSS4G.
To succeed the success of the FOSS4G-Asia 2014 Bangkok, FOSS4G 2015 Seoul will have special session called 'Asia Special Session.' The main theme of the session will be 'Open Source GIS in Asia, Past, Present and Future.' Asia Special Session will specifically focus on the development or utilization of open-source geospatial software in Asian countries to cover the varieties of Asia. Delegates from inside/outside of Asia who want to share their situation and know more about the market situation of Asia could join here.
Participants who want to join the 'Asia Special Session', please submit the 'Presentations' or 'Academic Track' programme and send an e-mail to Secretariat(programme_foss4g2015@meci.kr) that you want to join the 'Asia Special Session'.
Session Theme
'Open Source GIS in Asia, Past, Present and Future.'
Session Program
When: 17th(Thursday) September
Where: Room #
Program: Please take a look at the preliminary program of FOSS4G Seoul 2015. Program is subject to change without prior notice. So, please stay tuned. "FOSS4G Seoul 2015_Preliminary Programme_150630"(click)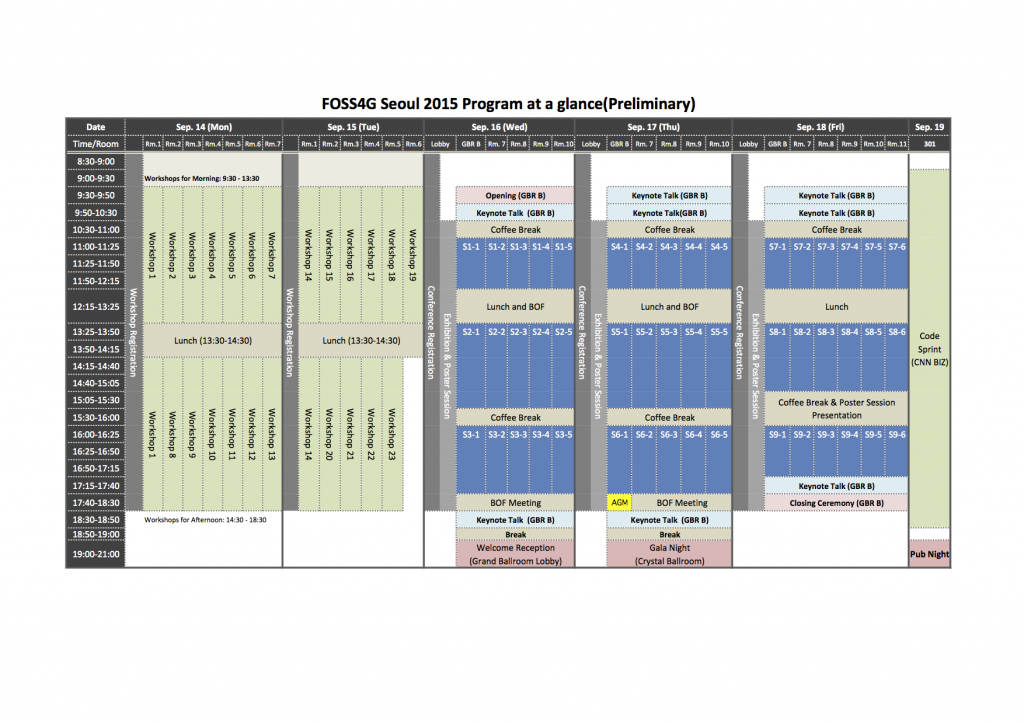 Contact Information
Ms. Annie Shim
FOSS4G Seoul 2015 Secretariat
Tel.: +82 2 6288 6324
Fax: +82 2 6288 6399    Email: programme_foss4g2015@meci.kr